Vancouver, BC – TheNewswire – March 30, 2023 – Nexus Gold Corp. ("Nexus Gold" or the "Company") (TSXV:NXS) (OTC:NXXGF) (FSE:N6E) is pleased to announce it has signed a non-biding letter of intent to acquire a 90% interest in the 6,200-ha (62km²) Fofora Gold Project exploration permit located 450km to the southwest of Ouagadougou, Burkina Faso, West Africa.  
The Fofora permit is located on the eastern side of the Hounde greenstone belt in the Kampti department; in the province of Poni, near the border with Cote D'Ivoire. The Hounde Greenstone Belt is host to several large-scale operating gold mines, including Endeavour's Mana and Hounde Mines, Futurna Silver's Yaramoko Mine as well as multiple other producing mines and large-scale discoveries.
"We're pleased to potentially add this highly prospective project to our existing West African portfolio," said CEO, Milad Zareian.  "The gold endowment in West Africa, and specifically in Burkina Faso, is well established.  The potential for further impactful discoveries, for the delineation of additional sizeable resources, is as good as any place on the planet.  We are eager to move Nexus forward and begin to develop our projects.  We have work to be done, but we're committed to increasing our market cap and unlocking the value of our projects," continued Mr. Zareian.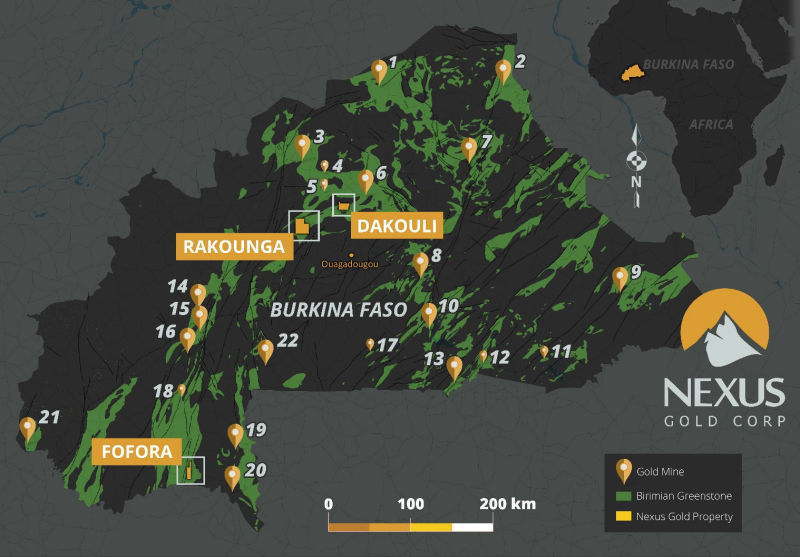 Click Image To View Full Size
Fig 1: Nexus Gold projects, significant deposits/mines, Burkina Faso, West Africa
Historical work on the Fofora property has consisted of soil geochemistry and silt sampling completed in 2008 by Volta Resources.  This early work outlined a two-kilometer northeast-southwest trending soil anomaly straddling the contract between andesitic rocks and basaltic rocks within the Hounde greenstone belt.
Historical silt sampling with the permit area was also completed in 2008 with 38 silts samples being collected from drainage and seeps on the property.  Values ranged from 1 ppb gold to 327 ppb gold. An Initial reconnaissance program was attempted in January but due to flooding in the area the program was cut short.  Despite this delay the Company geologists were able to access one artisanal operation and collected three samples which returned gold values of 9.8 grams per tonne ("g/t") gold ("Au"), .108 g/t Au, and 0.056 g/t Au respectively.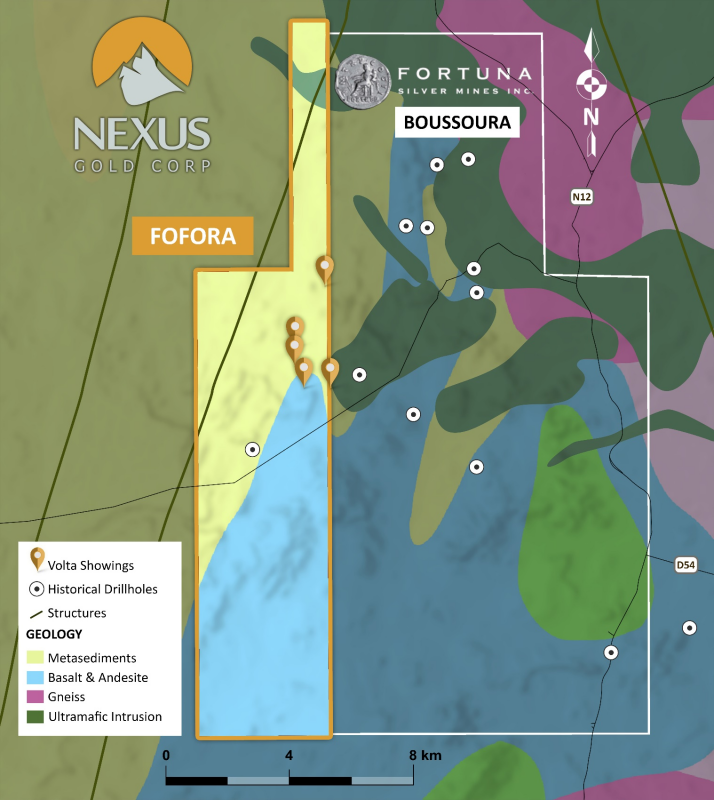 Click Image To View Full Size
Fig 2: Fofora Gold Project, adjacent to Fortuna's Boussoura project, Burkina Faso, West Africa
The property is immediately adjacent and contiguous to Fortuna Silver's Boussoura Project.  Historical drill results reported by Roxgold (now Fortuna Silver) returned the following results:
35 metres ("m") at 4.1 grams per tonne ("g/t Au") in drill hole BSR-21-RC-FFR-218 from 86m including: 

9m at 12.1 g/t Au from 96m 

6m at 11.3 g/t Au in drill hole BSR-21-RC-FFR-167 from 90m including: 

1m at 65.6 g/t Au from 94m 

2m at 11.7 g/t Au in drill hole BSR-21-RC-FFR-187 from 37m including: 

1m at 20.9 g/t Au from 38m 

3m at 33.6 g/t Au in drill hole BSR-21-RC-FFR-201 from 6m  
As part of its due diligence the company will be conducting further ground follow up on the Fofora permit to identify suitable target areas for drill testing.  
Warren Robb P.Geo., Vice President, Exploration, is the designated Qualified Person and has reviewed and approved the technical information contained in this release.   It is the QP's opinion that the data as presented is adequate and can be relied upon for use in this press release.
* Management cautions that past results or discoveries on adjacent properties may not necessarily be indicative to the presence of mineralization on the Company's properties.
About the Company
Nexus Gold is a Canadian-based gold exploration and development company with an extensive portfolio of projects in West Africa.  The Company will continue development of assets in West Africa in addition to potentially broadening its scope to include other jurisdictions.
For more information, please visit nxs.gold
On behalf of the Board of Directors of
NEXUS GOLD CORP.
Milad Zareian
CEO
info@nexusgoldcorp.com
www.nexusgoldcorp.com
Neither the TSX Venture Exchange nor its Regulation Services Provider (as that term is defined in the policies of the TSX Venture Exchange) accepts responsibility for the adequacy or accuracy of this release. This news release may contain forward-looking statements. These statements are based on current expectations and assumptions that are subject to risks and uncertainties. Actual results could differ materially because of factors discussed in the management discussion and analysis section of our interim and most recent annual financial statement or other reports and filings with the TSX Venture Exchange and applicable Canadian securities regulations. We do not assume any obligation to update any forward-looking statements, except as required by applicable laws.
Copyright (c) 2023 TheNewswire – All rights reserved.